Hukumusume fairy tale collection >Classical stories of the world >July
Max 1920×1080 youtube

illustration 「夢宮 愛(Yumemiya Ai)」  web 「夢見る小さな部屋」

Sweet Sweets Rain

Japanese ・English ・Japanese&English
 Once up on a time, a girl and her little brother,  Lakshmi and Raman lived in a village in India.
GIF animation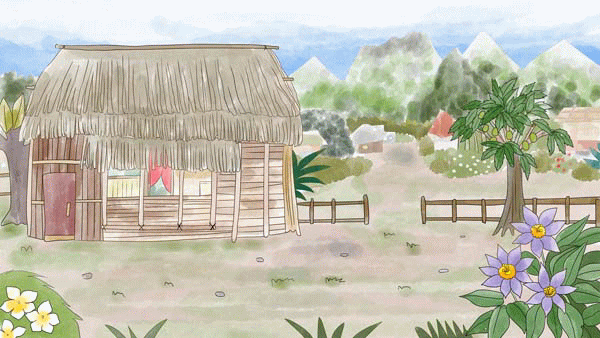 Lakshmi was 12 and her brother was 8.
GIF animation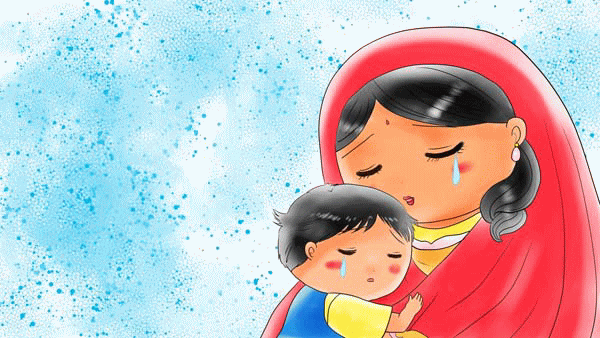 It was a pity for them that their parents died of diseases only to left them a house with a garden and very little money.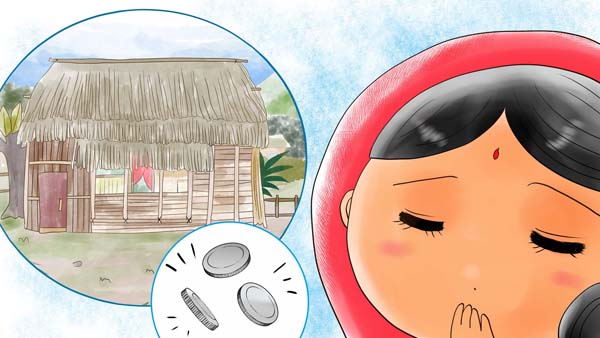 Lakshmi earned little money by helping people in the village, though that was only enough to buy meals for the day.
 Then Lakshmi said to Raman.
"Well, Raman."
"We are going to grow vegetables in our garden and market. "
"Mom said that the ground here was quite a good. "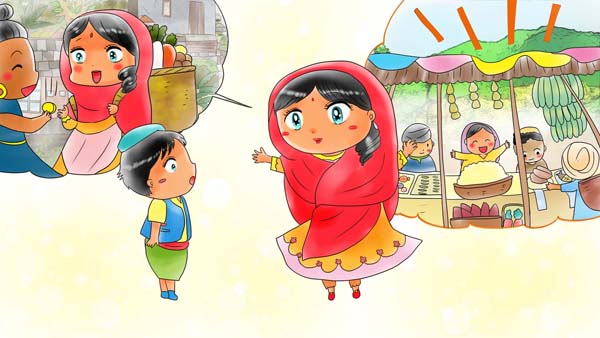 And he answered.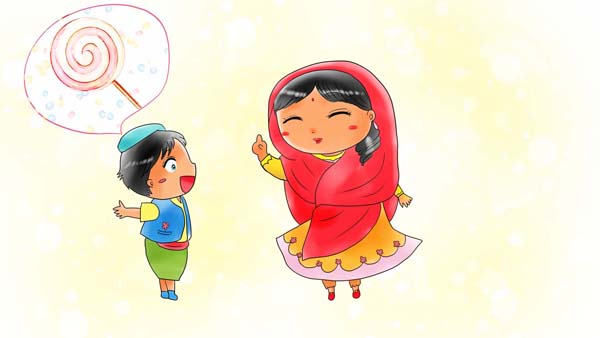 "All right… before that buy me a lollipop for a snack."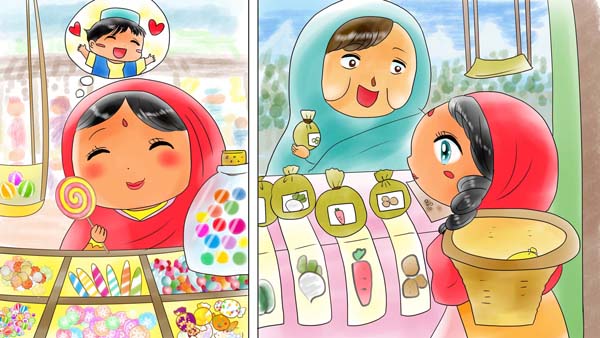 Then, Lakshmi scraped together money in their house, went to a market and bought him a lollipop.
 After, they began digging their garden.
GIF animation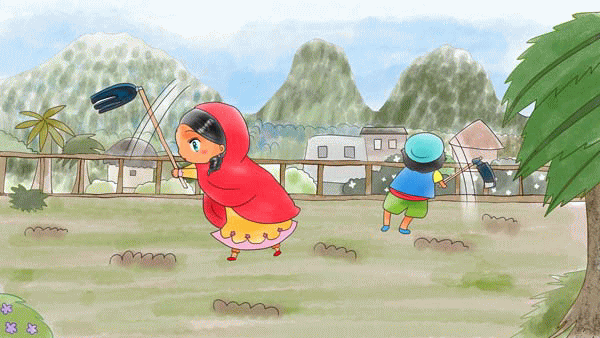 It was such a small garden that they could finish in a short time.
 Coming to the end.

 Clank

 They heard something like the how clash something hard.
GIF animation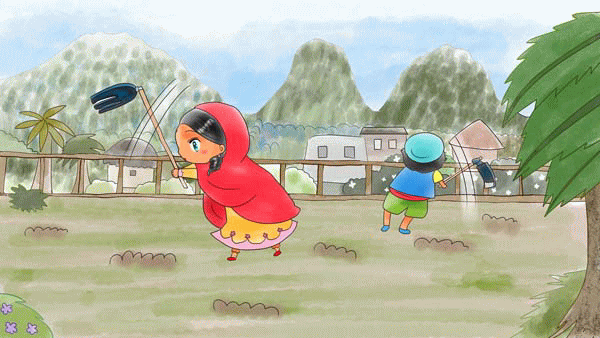 "What is that?"
 Digging, they found out a pot filled with much gold and jewels.
"Fantastic!!"
 Lakshmi was surprised too much and couldn't speak.
 That would enough for them to eat whole their life.
GIF animation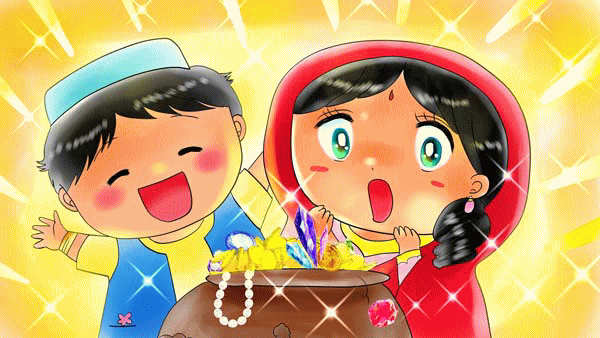 Raman was so glad, started running and said.
"Great! We are so rich! I should boast everyone!"
"What? Wait! Don't show off!"
 Lakshmi tried to stop Raman, though, he had already gone.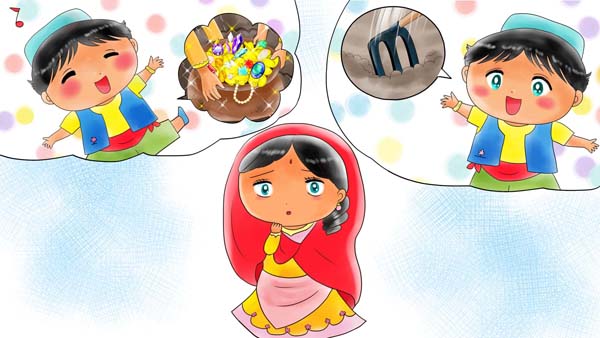 "Oh, no!!"
 Lakshmi believes Raman will speak whole the story about the treasures.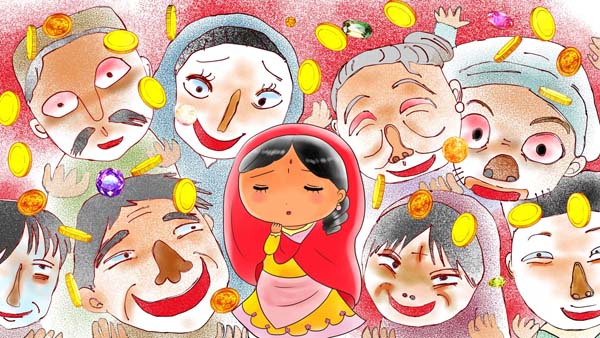 After that, greedy adults will come and may take our treasures.
 What should I do?
 Something good way…"
GIF animation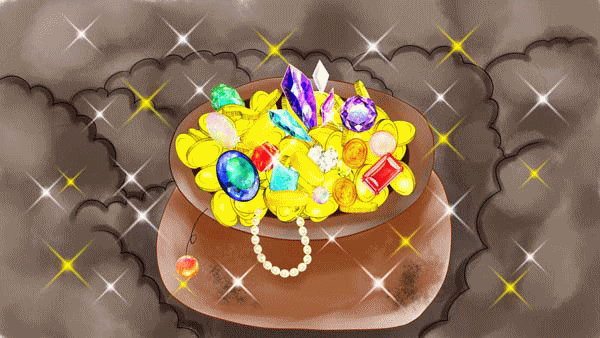 Clever Lakshmi suddenly picked up the pot and hid it where nobody found out.
 Then she filled the hole where the pot was and levelled the ground, casting seed of vegetables and watered.
 Next, she put the lollipops she had bought in a pan and cooked in water.

 After a bit, Raman who seemed to be tired to run around the village went back and soon fall asleep under the mango tree in the garden.
GIF animation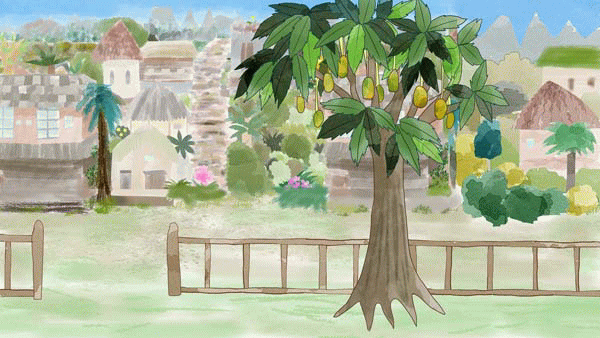 Lakshmi went up the mango tree with the melted lollipops in a cup and spread the lollipops.
GIF animation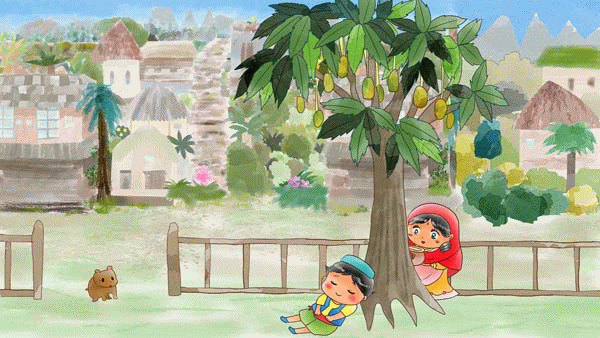 The melted lollipops were shining in the sunlight and beat down around Raman.
 After that, Lakshmi went down the tree and said to her brother.
GIF animation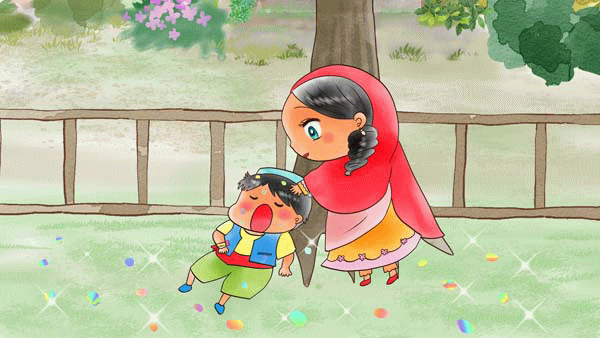 "Raman, Raman, get up! Lollipops came down from the sky!!"
"What?"
 He was surprised, woke up, licked the lollipop left on his hand.
GIF animation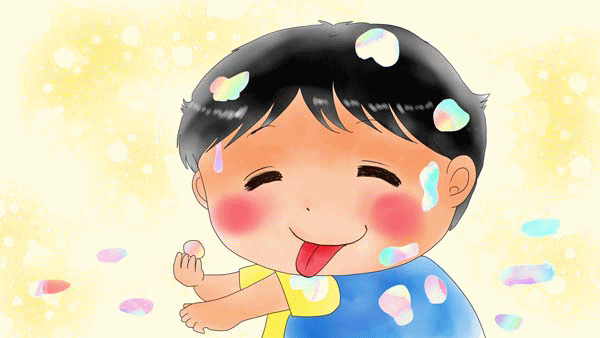 "That's true! This rain is so sweet!"
 Lakshmi said to her brother licking his hand happily.
"Now, you are sticky with lollipop rain, you should bask in the water!"
"See"
GIF animation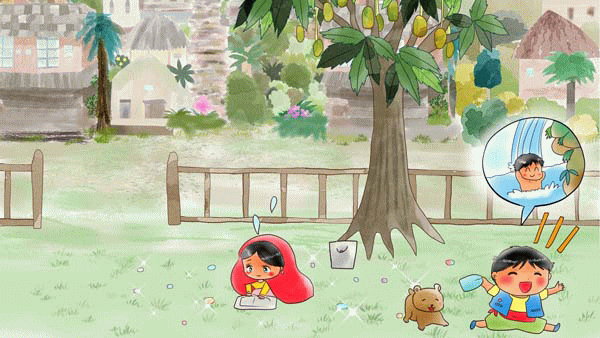 Using this chance when her brother went basking, she clean off the evidence of lollipop rain.
 At the moment, many people in the village came to their house.
"I made it!"
 She welcomed them with a completely innocent face.
"Hello, everyone. What's going on? All together?"
 Soon, people speak each other.
GIF animation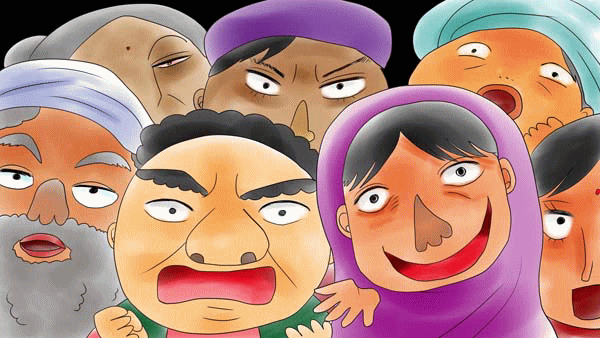 "You found out treasure? Show me, please."
"My dear Lakshmi and Raman, I'm your distant relative. Please, share them! "
"That is what I buried. Can I have it back, now?"
"That is belong to our King. If you pocket them, you will be sent to the chair!"
 The village people brought up selfish things.
 Though, Lakshmi didn't rush and replied wondering look
GIF animation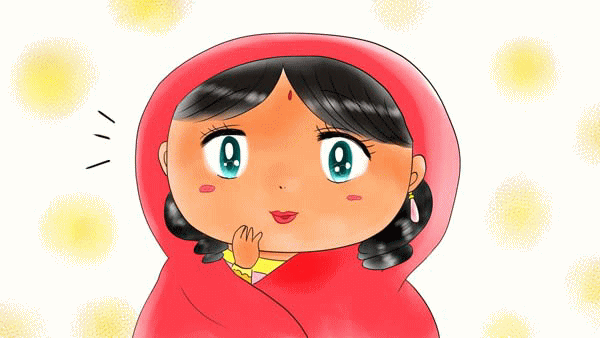 "Wow, my Raman said we found treasures?"
"Wait, wait. You all are hasty."
"You all know Rama likes speaking and he always says anything whether it's true or not. "
 At the moment, Raman finishing basking came in. Lakshmi said to him.
GIF animation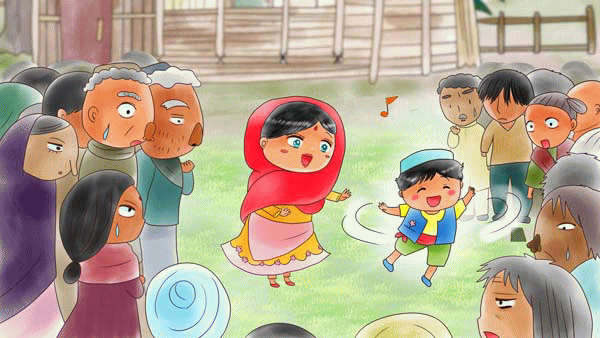 "Raman, please tell me what you had today."
 Then, he started talking triumphantly
GIF animation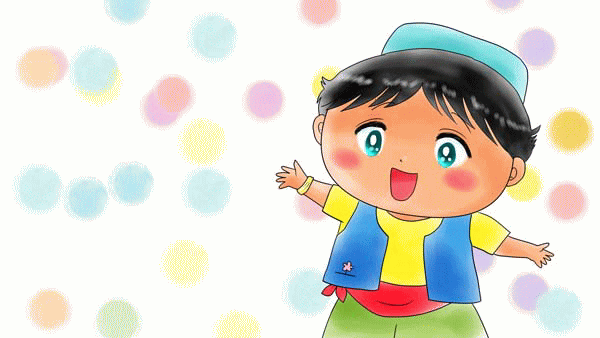 "Sure. Today, when I plowed the fields with Lakshmi, we found amazing treasures!"
"Then?"
"Then, a little bit ago, I was taking a nap and I had lollipop rains from the sky! It was so sweet!"
 The village people hearing Raman's story asked him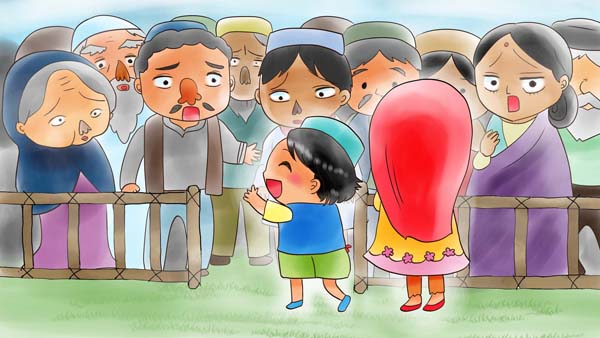 "Lollipop rain from the sky???"
"Yes! Sweet sweets rain from the sky!"
 Everyone laughed their head off listing to that.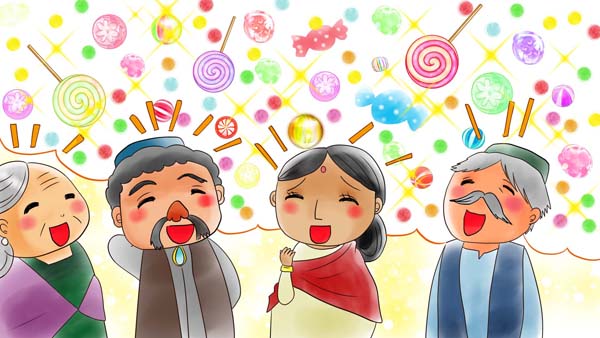 "Oh, no! As you said, Lakshmi. We all, were too hasty."
"You're right. That's not going to happen."
"We are stupid. Go home, back to home."
GIF animation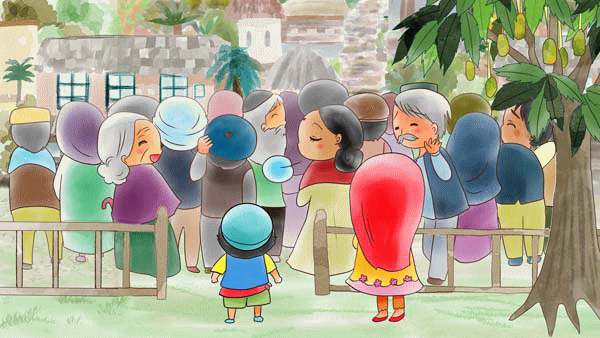 The village people went back to their home.
GIF animation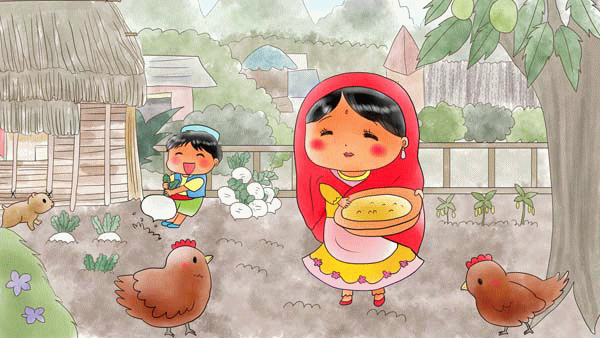 Afterward, Lakshmi made use the treasures little by little, not to let the people become suspicious. And the sister and brother lived happily for long time.
The End
(Click here to return)

bonus