Hukumusume fairy tale collection > Japanese classical stories >November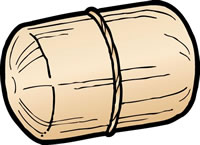 Rice Bales of Praise

Introduction to Hikoichi

・Japanese ・English ・Japanese&English

English translator REN HANADA(花田れん)
 Once upon a time, there was a very clever child called Hikoichi.

 One day, a few years after His Highness died and the young Master became his successor.
 A messenger from the castle came to Hikoichi's house and said,
"The master will give a reward for you. You may come to the castle."
 Hearing this, Hikoichi fell to thinking.
"Well, what is young master going to give me?
 Young Master...no, Your Highness, he is a generous man.
 If I have a lot of rewards, I can't carry them with me, so I'll take a cow just in case."
 When hikoichi went up to the castle with the cows, His Highness said,
''Hikoichi, come closer. Plenty of your wits are still reputable in the castle. Thanks to that, this castle was also fun after my father's death. Therefore, I will give you a reward."
''Hah, I've never been happier."
"Then bring me a reward for Hikoichi."
 His Highness clapped his hands and a servant brought out a sword and a rice bale.
( What's up? one rice bale?)
 Hikoichi wanted another bale of rice, so he put his sword on one side of the cow's back and put a bale of rice on the other.
 The sword is light but the rice bale is heavy, so the cow is out of balance.
 The cow couldn't walk well because its body was slouched.
 Hikoichi looked at it and grinned. Then he got angry at the cow on purpose.
"Come on! You're just a cow, and you value one of His Highness' rewards and not the other? Now, walk fast!"
 But the cow couldn't walk well and finally sat down.
"Well, this is a problem. It's a precious reward from His Highness. If there were another bale of rice here, the cow would walk well."
 As Hikoichi was purposely pretending to complain, His Highness told the servant.
"Give Hikoichi another bale of rice....Oh dear, that's quite a wit."
 The cow put the rice bales to the left and right and now began to walk in harmony.
End
One point advice : Circumstances may justify