Born March 30
4k(2880×2160)  4k whole body(2160×2880)  Nurie(2880×2160)  Nurie whole body(2160×2880)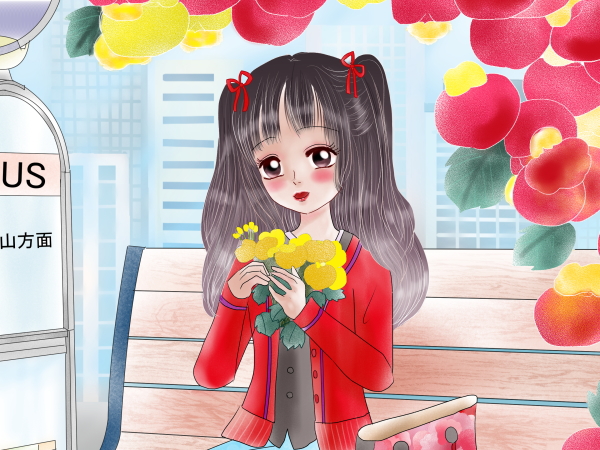 Illustration 「夢宮 愛」  Website Small room of Aichin ※無断転載禁止

Japanese ←→ Japanese & English ←→ English

Translation ちいさな翻訳屋さん
・Your personality
 Though you look younger, your mental age is higher than others and you're precocious.
 So you stay away from friends doing funny stuff.
 You hate lie or secret, and are brave to help your friend who is bullied.

・Predict your love life
 A gap of your atmosphere between childish and grown-up is you charm.
 There might be a lot of boys longing for you.
 As you play your cards well in the field of love and you get your boyfriend earlier than your friends. Though once you find his fault, you rapidly fall out of love with him.

・Friends
 You're like a big sister for your friends.
 As you're always willing to help people, are popular among younger. Senior also relies on you as you're grown-up.
 Find friends with someone having same hobby as you, your friendship will be long for all time.

・Your lucky months and dates
 April and June, also the 12th and the 30th of each month.

・Compatible boyfriend type
 A boy whose mental age is higher than others will be suitable for you.
 If your boyfriend looks like a child, your relationship won't be long.

・How you should approach a boy who was born on the date
 This birthday boy also thinks like a grown-up.
 As he's reliable, he's popular among girls.
 As he wants his girlfriend think like a grown-up, you shouldn't behave as a child in front of him.
 His favorite type is a "Tolerant girl."

・How to gain good luck
 Your lucky color rose grey    Color sample   
 Your lucky spot Bus stop
 Your lucky fashion style Shorts
 Your lucky number 6.42.69
 Your lucky item Dark blue cardigan
 Your lucky food Sandwich
 Your birth flower and the language of the flower Calceolaria. Peace.  → Flower photo

・Compatible job for you
 As you hate secret and think like a grown-up, you'll show your ability in such jobs as introducing something to others.
 For example, Reporter,referee of an umpire.

・One-point advice to make yourself more charming
 As you're grown-up, you look nice in fashion for adult.