Born December 14
4k(2880×2160)  4k whole body(2160×2880)  Nurie(2880×2160)  Nurie whole body(2160×2880)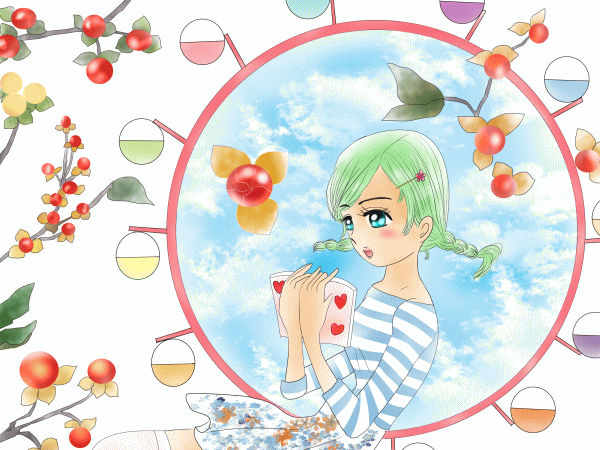 Illustration 「夢宮 愛」  Website Small room of Aichin ※無断転載禁止

Japanese ←→ Japanese & English ←→ English

Translation ちいさな翻訳屋さん
・Your personality
 You're a role model student.  In your room, you display many awards.
 You have potentials in so many fields, you don't even know what you should select.
 You tend to get bored, but if you believe in your potentials and make efforts, you'll be able to achieve many dreams.

・Predict your love life
 You're very cautious about love.  You seldom fall in love on your own initiative.
 You're highly lucky in love, so quite often, boys confess their love to you.  Then, you'll find someone right among them.

・Friends
 By being charmed by your talents, many friends will come around you.
 Be a good listener when your friends have difficulties.  Then, your friendship will last forever.

・Your lucky months and dates
 August and December, also the 14th and the 23rd of each month.

・Compatible boyfriend type
 For your boyfriend, you should find someone who makes constant efforts until he achieves something.
 Then, you'll be able to improve your habit of easily getting bored and learn how to make constant efforts.

・How you should approach a boy who was born on the date
 The boys, who were born on the date, are also cautious about love too.  They seldom fall in love on their own intiative.
 He'll probably find someone right among the girls who fancy him.  You need to have the guts to compete with them.
 His favorite type is a "Girl who always smile."

・How to gain good luck
 Your lucky color sky blue    Color sample   
 Your lucky spot Amusement park
 Your lucky fashion style Horizontal stripe pattern
 Your lucky number 8.17.44
 Your lucky item Love story
 Your lucky food Meat loaf
 Your birth flower and the language of the flower Celastrus orbiculatus. Late bloomer.  → Flower photo

・Compatible job for you
 You can put on great performance in a job, in which you organize information.
 e.g. a Editor, a Financial analyst, etc.

・One-point advice to make yourself more charming
 Try to speak politely, and you'll increase your intelligent impression.