Hukumusume fairy tale collection > Classical stories of the world > March

An old man and his grandson
Subtitle added "Japanese" "English"

Illustrator 「Ai Yumemiya(夢宮 愛)」  Website 「夢見る小さな部屋」

An old man and his grandson(おじいさんと孫)
Grimm Fairy Tales

Japanese ←→ Japanese & English ←→ English
GIF animation 01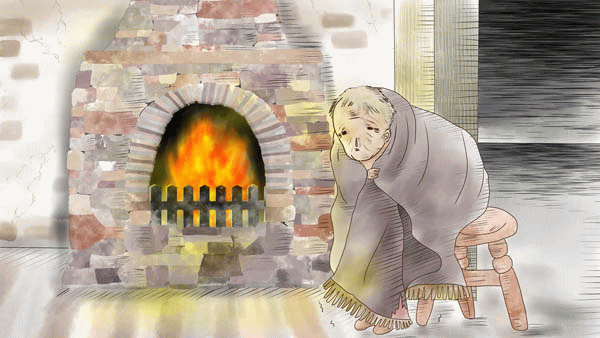 Once upon a time, there was a very, very old man.
 He had bad sight and a blurred vision.
GIF animation 02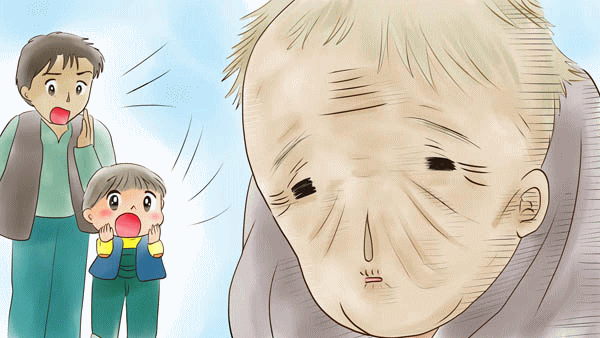 He was also deaf and his knees were always shaky.
GIF animation 03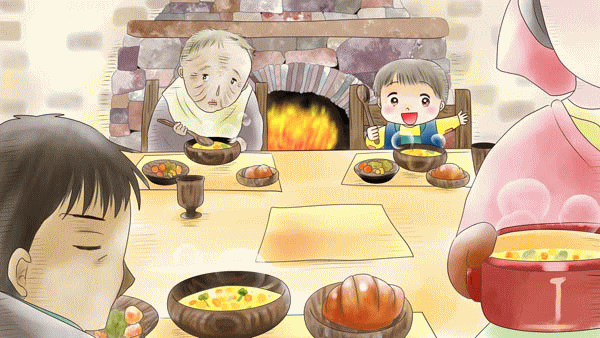 When he sat at a table, he couldn't manage his spoon well and often spilled soup.
 His son and daughter-in law hated the situation.
GIF animation 04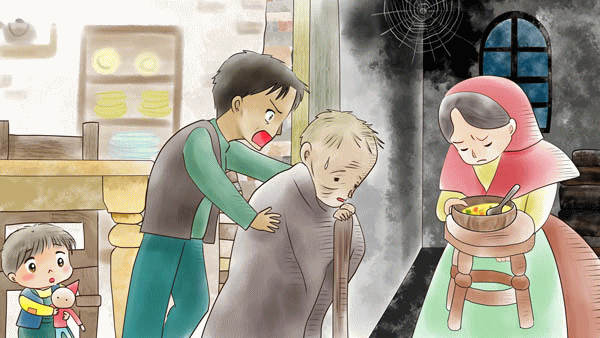 So they sat the old man behind their fireplace out of their sight and let him have meals there.
 The outcast old man's eyes always got wet with his tears.
GIF animation 05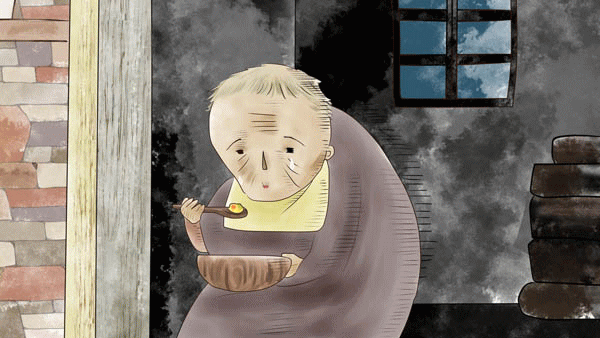 One day, when he was eating a meal with his shaky hands, he dropped his dish and broke it.
 His son and daughter-in law chuntered and gave him nothing to eat during the day.
GIF animation 06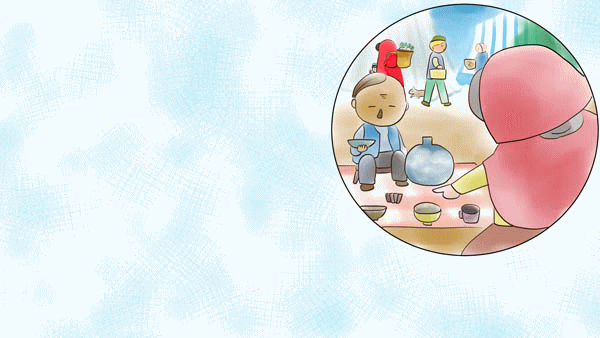 Next day, his daughter-in law bought a very cheap wooden small dish for the old man.
GIF animation 07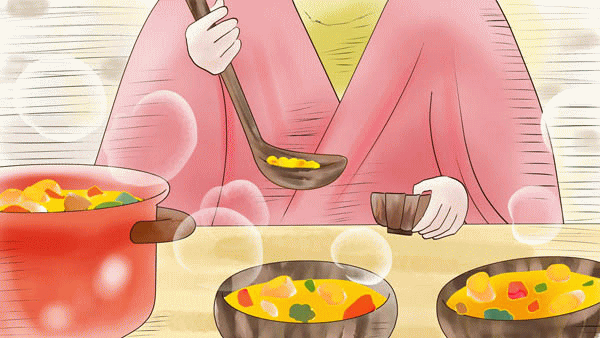 Since that day, the old man had been given only small amounts of food into the dish.
GIF animation 08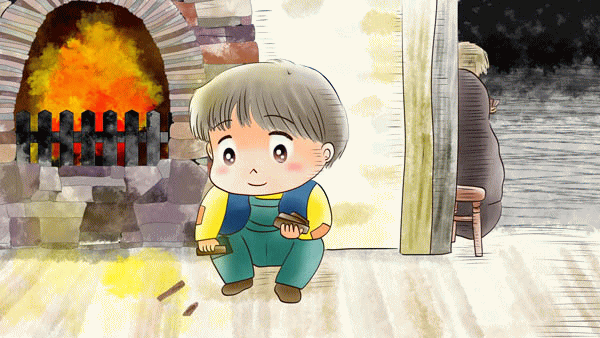 One day, their four-year-old boy was making something of boards he had picked.
GIF animation 09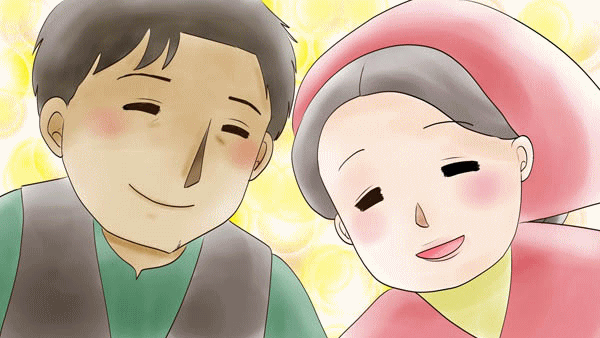 His father saw his boy and asked.
"What are you making?"
 The boy smiled and answered to his father.
"I' m making small caskets."
"Well done. But for what you use such small caskets?"
GIF animation 10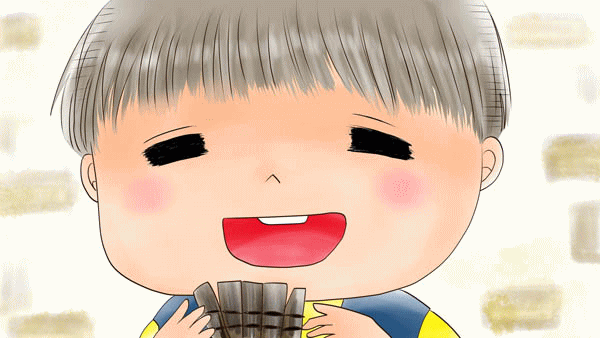 "You know, when I grow up, you and mom are to have meals served in these caskets."
GIF animation 11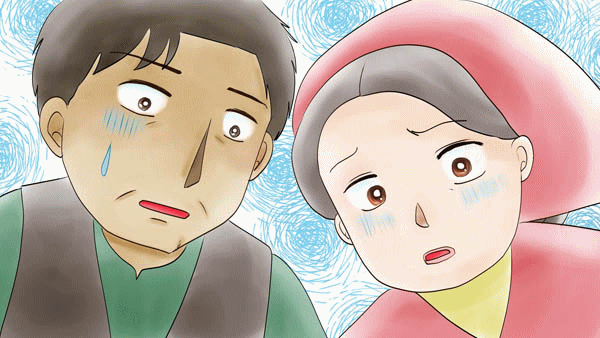 When his father and mother heard their boy, they looked at each other and started crying.
GIF animation 12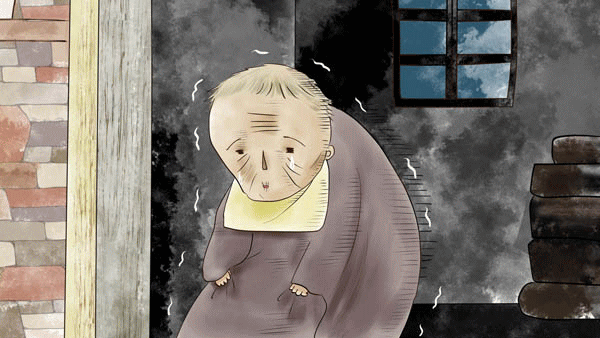 They soon took the old man from behind the fireplace to at their table.

 Since then, the old man had have meals with others, using the same dish with others.
GIF animation 13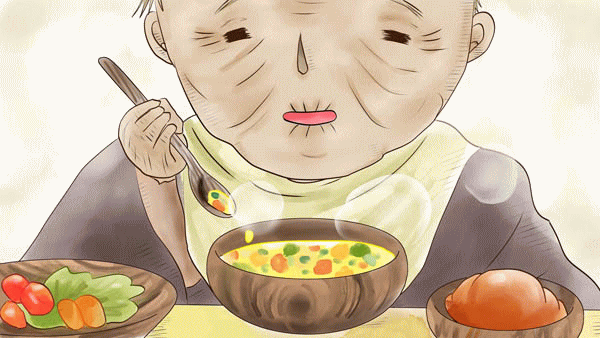 Even if the old man spilled soup or broke his dish with his shaky hands, his son and daughter-in law said nothing.
The End
(Click here to return)

Bonus

Anime rough version 1


Anime rough version 2