・Your personality
 You are a cool girl.  You're even more boyish than boys.
 You're active and brave, so your younger friends adore you.
 You're a good talker and feminine.  You're also popular among boys.

・Predict your love life
 Since you were a little girl, you've been adored by boys.  Therefore, it is rare that you fall in love with someone before they do.
 Once you get into love mode, your boyishness, which is your main charm, might disappear.
 Your ideal love life is, you'll stay friends with him for a while and at some point, you'll find yourself dating him

・Friends
 The more opportunities you have to see people, such as extra-curricular activities, private lessons, etc, the more friends you'll get.
 You should spend more time with various friends, rather than with the same few friends.

・Your lucky months and dates
 April and December, also the 10th and the 28th of each month.

・Compatible boyfriend type
 You're so boyish you tend to have quarrels with your boyfriend.
 A gentle, caring boy, with whom you can talk honestly, should be good for you.  Then, you'll be able to express your honest feeling to him without having a quarrel.

・How you should approach a boy who was born on the date
 He's not very good at talking to girls.
 Do not make him aware of your love.  You should begin by being friends with him.
 His favorite type is a "Tomboy."
サイズ(2880×2160)  4k whole body(2160×2880)  Nurie(2880×2160)  Nurie whole body(2160×2880)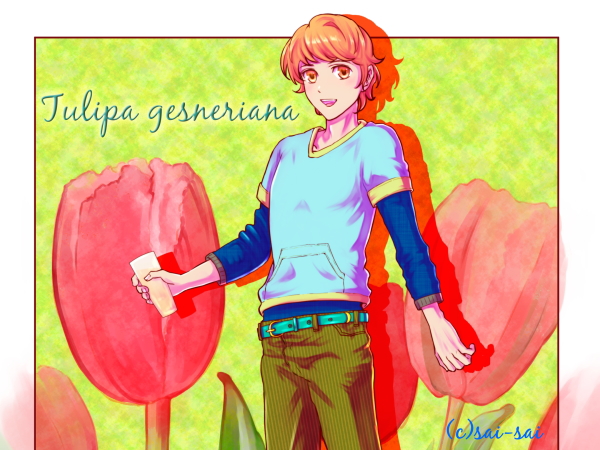 イラスト sai-sai  運営サイト sai-sai「イラスト」「コミック」 ※無断転載禁止
・How to gain good luck
 Your lucky color golden yellow    Color sample   
 Your lucky spot Street stall
 Your lucky fashion style T shirt with character prints
 Your lucky number 5.32.95
 Your lucky item Accessory with flowers
 Your lucky food Orange juice
 Your birth flower and the language of the flower tulip Love confession.  → Flower photo

・Compatible job for you
 You can be very capable in outgoing and physically active jobs.
 e.g. a Cameraman, a Gym instructor, etc.

・One-point advice to make yourself more charming
 We know you're boyish, but on the weekends, you should make your nails more charming.
 In order to crease your charm, pale pink color is recommendable.