Born March 25
4k(2880×2160)  4k whole body(2160×2880)  Nurie(2880×2160)  Nurie whole body(2160×2880)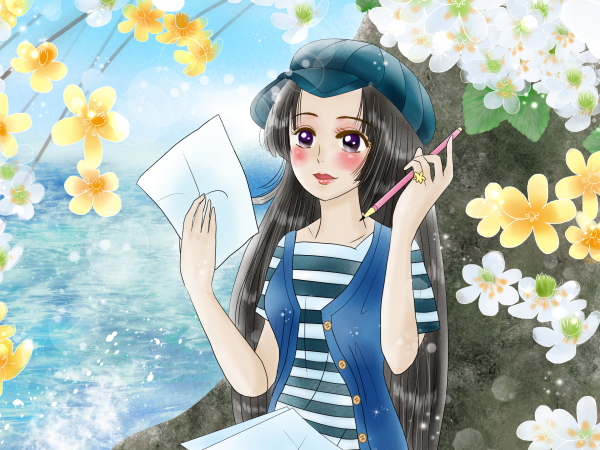 Illustration 「夢宮 愛」  Website Small room of Aichin ※無断転載禁止

Japanese ←→ Japanese & English ←→ English

Translation ちいさな翻訳屋さん
・Your personality
 You're blessed with expression ability such as art and writing.
 However, you have a limited attention span and sometimes fall just one step short of.
 You can get the kind of job if you gain ability to concentrate.

・Predict your love life
 You have strong desire for romance. Once you love a boy, you can't concentrate on culture lesson or studies.
 When you're alone with him, you're too nervous to express your feelings.
 As you're good at writing, you should better to express your feelings via letter or E-mail.

・Friends
 Make friends with someone having same hobby as you, and you'll enjoy your hobby long time and your concentration will be increased.
 As you're poor in conversation, your friends think you of brusqueness.
 You should better to speak to someone little by little.

・Your lucky months and dates
 April and November, also the 7th and the 25th of each month.

・Compatible boyfriend type
 Find a gentleness and kind boy.
 You can talk with him in a relaxed way.

・How you should approach a boy who was born on the date
 This birthday boy also has a limited attention span and he's constraint in romance.
 His favorite type is a "Girl with many faces."
 You should better act various kinds of character; spoiled child today, sisterly tomorrow.

・How to gain good luck
 Your lucky color marine blue    Color sample   
 Your lucky spot Sea shore
 Your lucky fashion style Pants style
 Your lucky number 1.10.28
 Your lucky item Ring
 Your lucky food Seafood
 Your birth flower and the language of the flower Goldthread. Mutate.  → Flower photo

・Compatible job for you
 Find a job utilizing your strong area.
 For example, Translator,Carpenter.

・One-point advice to make yourself more charming
 Fashion items related to ocean are recommended.